Professional results from home.
"I'm so pleased by the way the treatments help my skin feel smooth, keep breakouts at bay, and give me a beautiful glow!"
NATALIE
Smoother, softer, better-than-ever texture
"It helped me take care of pesky dry areas and got rid of the dead skin layer especially after showering"
EMILEE
Get more radiant, younger-looking skin!
"The combination of the tools and serums were just right. My skin has not looked this good in years."
LANETTE R.
Radiant Reviews
Jaima
Beyond in love with this new skin care product. My skin feels so soft and smooth after every use! The results have been amazing!
Wendi C.
I have been using this Microderm device for a little over 5 weeks and have seen huge improvement! My face feels smoother, and I am happy about the overall experience. I had some redness the first couple uses, but after that my skin has been so much better. I feel like a new person!
Alaiya B.
I have only been using the Trio for a short time, but the difference that I have already began to notice in my skin is incredible! My skin is smoother, and I have a more even tone. The microdermabrasion tool is AMAZING and so are the serums!
Alexis
I absolutely LOVE the Vita Trio- this device has become a staple in my beauty routine! The microdermabrasion tip has completely transformed my skin. I've seen a huge improvement in the appearance of fine lines, wrinkles and hyperpigmentation in just a few weeks of use.
FAQs
What is a Vita, and why is it so effective?

Vita is one of the highest quality at-home microdermabrasion machines. Dual-action therapy combined with diamond-tipped exfoliation AND suction enables you to have true microdermabrasion treatments at home. Without suction, your skin will not realize the benefits of microdermabrasion.

During the treatment, the outer layer of skin is gently buffed away using light abrasion, which promotes the growth of healthy new skin cells. The suction used in the treatment also increases blood flow to the epidermis, which rebuilds collagen and elastin for younger-looking skin. The combination of exfoliation and suction gives your skin that healthy afterglow.
How long do Vita treatments take?

Each treatment depends on the individual. An average treatment should take no longer than five minutes for a full face and neck. Of course, if you're treating other body parts in addition to your face (such as chest, hands, and scarred areas) it will take a little longer.
How often should I use Vita for optimal results?

This depends on your skin's condition, but Auria's general guidelines are:

Microdermabrasion:2-3 times a week for ongoing maintenance, and as often as desired for special occasions. A good rule of thumb is that if your skin doesn't have sensitivity from a previous treatment, then it's safe to do another microdermabrasion. For best results, pair with our Renew serum.

Kinetic toning:Daily use is recommended for optimal results. For best results, pair with our Brighten serum.

Pore extraction:Use on an as-needed basis to maintain radiance. For best results, pair with our Refine serum.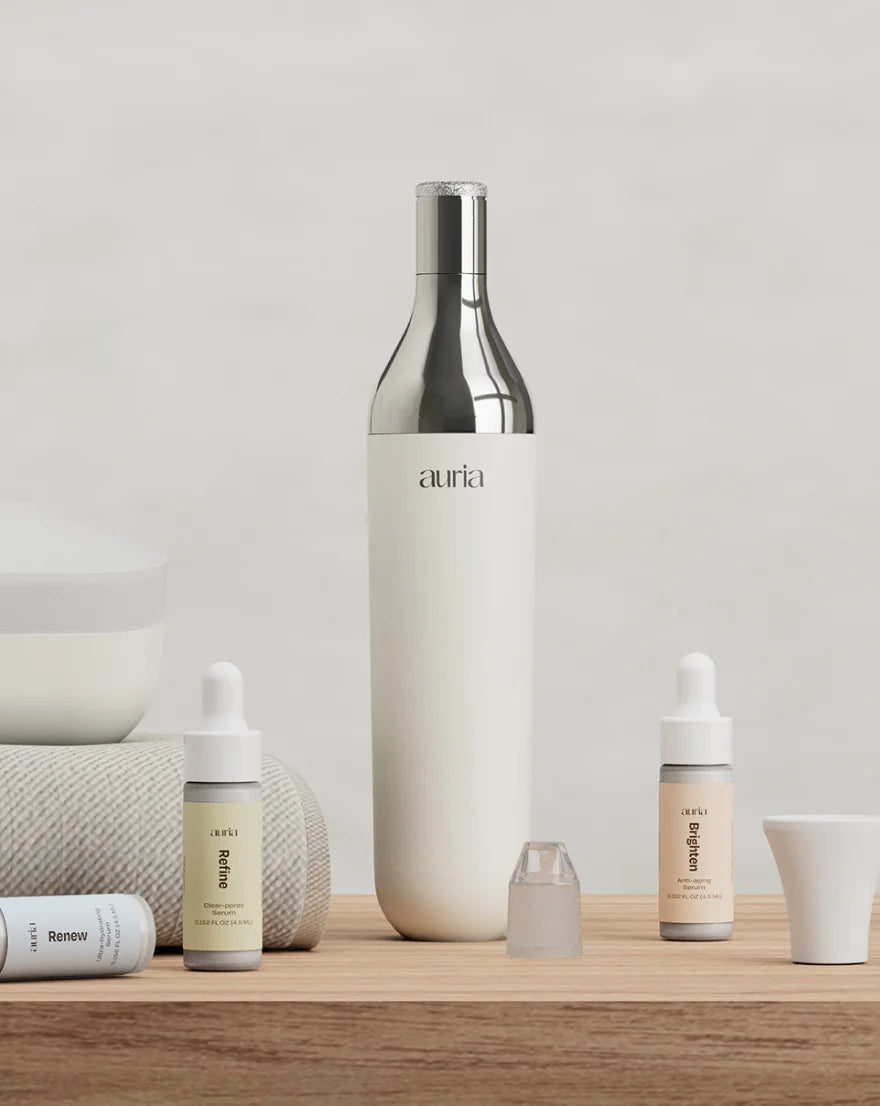 Vita Trio
$169 $199
Your powerful, portable, 3-in-1 luxury ticket to spa-worthy skin. Have a spa day every day with the Vita Trio.
Get FREE SHIPPING on every order.
Also for a limited time only, at checkout use the code below for 15% off your entire order.
USE CODE: VITA15OFF