What is a Vita, and why is it so effective?
Vita is one of the highest quality at-home microdermabrasion machines. Dual-action therapy combined with diamond-tipped exfoliation AND suction enables you to have true microdermabrasion treatments at home. Without suction, your skin will not realize the benefits of microdermabrasion.
During the treatment, the outer layer of skin is gently buffed away using light abrasion, which promotes the growth of healthy new skin cells. The suction used in the treatment also increases blood flow to the epidermis, which rebuilds collagen and elastin for younger-looking skin. The combination of exfoliation and suction gives your skin that healthy afterglow.
How long do Vita treatments take?
Each treatment depends on the individual. An average treatment should take no longer than five minutes for a full face and neck. Of course, if you're treating other body parts in addition to your face (such as chest, hands, and scarred areas) it will take a little longer.
How often should I use Vita for optimal results?
This depends on your skin's condition, but Auria's general guidelines are:
Microdermabrasion: 2-3 times a week for ongoing maintenance, and as often as desired for special occasions. A good rule of thumb is that if your skin doesn't have sensitivity from a previous treatment, then it's safe to do another microdermabrasion. For best results, pair with our Renew serum.
Kinetic toning: Daily use is recommended for optimal results. For best results, pair with our Brighten serum.
Pore extraction: Use on an as-needed basis to maintain radiance. For best results, pair with our Refine serum.
What is the difference between Vita Trio and Vito Solo?
The Trio device comes with 3 treatments, a storage case and 3 trial serums. The solo only comes with a single exfoliate head.
Can I use the extract and tone tips on the Solo?
Yes, simply purchase the heads here, remove the exfoliate tip and place the new desired tip on. Your device will automatically recognize this and change the Solo to the new mode of operation.
How soon will I see improvement?
Microdermabrasion and pore extraction: Skin responses vary between individuals. Many people will see noticeable results after the first treatment, and everyone will see continued improvement over time.
After your first microdermabrasion treatment, you will experience immediate softness—in addition to seeing all the dead skin collected in the filter of the device. This is, of course, a sure sign that it's working! Follow your treatment with our Renew serum, to hydrate and soothe your skin.
After your first pore extraction treatment, you'll notice cleaner pores, and see the extracted debris in the tip and filter. For best results, follow up with our Refine serum.
Kinetic toning: Similar to a toning exercise you do for your body, the best kinetic toning results come from cumulative treatments and pairing with Auria's Brighten serum. Any skin redness from suction goes away soon after the treatment. Redness tells you the device is doing its job by getting the body to circulate blood to the necessary layers of the skin.
What type of microdermabrasion is used by plastic surgeons and other physicians?
Most medical practitioners these days use a diamond-based, crystal-free system. These professional systems deliver added coarseness and suction levels to fully customize the treatments. With Vita, we have designed a device based on the same principles as these medical-grade systems, using the same dual-action therapy that the professional models use in medical clinics.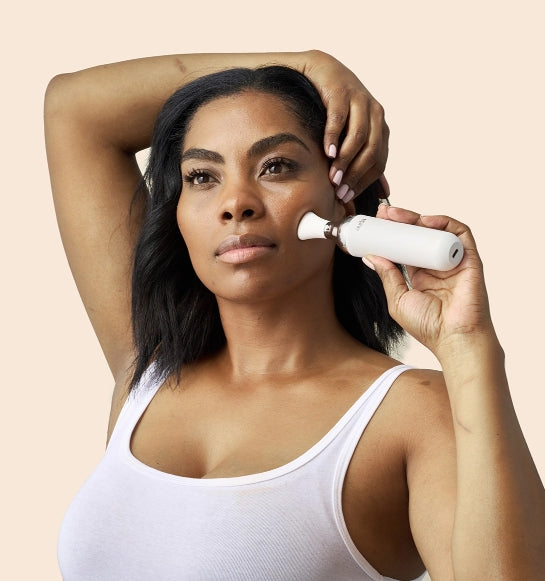 Does the type of exfoliation really matter?
It does matter a great deal. Vita doesn't use crystals or abrasive creams, which increases ease of use and user safety by eliminating the potential for ingestion, inhalation, and eye injury. Real diamonds are precise, high-quality abrasives that allow you to work near sensitive and hard-to-reach areas such as the nose and mouth without covering them. Real diamonds are hypoallergenic and less irritating than traditional crystals for an effective, comfortable, and safe experience. Non-diamond or loose abrasives are less refined and may cause unnecessary discomfort, including irritation to the eyes and breathing passageways.
Is it normal if I see redness after use?
Yes, you may experience some redness and/or skin sensitivity after treatments. This is normal. It should fade shortly after treatment. If you continue to have discomfort and redness of the skin, lower the suction setting and frequency of use until you are comfortable. If you are still experiencing redness or discomfort, give your skin a rest for a few days.
How do I choose the treatment settings?
Select your treatment by first selecting a treatment tip: Exfoliate microdermabrasion tip, Tone kinetic toning tip, or Extract pore extraction tip. After placing the desired tip on your Vita device, Smart Tip technology will automatically detect it and adjust to the appropriate, effective speed and vacuum profiles. There are three varying suction levels you may select from—the suction level will show up when the Vita device is powered on, and a quick press of a button will adjust the device to your preference.
How do I clean the Exfoliate tip?
After each treatment, remove the tip and use a toothbrush or a bristle to brush away the dead skin cells that have collected between the diamonds. It's okay to use mild soap or facial cleanser and water on the tip. Be sure the tip is completely dry and a new filter is in place before putting the tip back on the Vita.
Can I use my own skincare products with the Vita?
Absolutely! Before any of the three treatments, start with clean, dry skin. We recommend using a high-quality serum, facial oil, or moisturizer immediately after each treatment.
Shop our serums, specifically formulated to enhance Vita's treatments
Post-microdermabrasion, your skin will readily absorb products now that the top layer of dead skin cells have been removed, so this is an ideal time to apply high-quality products that will aid in your skincare goals.
Take care when combining microdermabrasion with other exfoliating treatments, like AHAs. We recommend saving your skincare topicals with active ingredients for the days you do not do a microdermabrasion treatment. Of course, no one knows your skin better than you! This is just our word of caution when layering different treatments and topicals.
Can I use Vita to treat my whole body or only my face?
The microdermabrasion treatment exfoliates your skin, buffing away dead skin cells. We love to use it on our elbows and feet when they need extra smoothing or love. Kinetic toning can be used to tone the neck area as well as your face.
I am a beginner. What do you suggest I do the first time I use Vita?
Don't press the tip firmly against the face. Use smooth, even strokes. Brace the skin with your free hand, allow the tip to gently glide across the skin, and let the suction do the work! Never let the tip sit on one piece of skin for more than two seconds.
How do I charge my Vita?
Vita comes with a USB-C cable that you can plug into any USB adapter. A USB adapter is not included. Plug the adapter into the wall and into the back of the Vita. If the device is plugged in, the battery icon in the bottom corner will stay lit. Allow for it to fully charge (about 2 hours), then unplug.
Do you have a product guarantee?
Yes! You can use and return any product within 60 days of purchase. If you don't like your Vita, tips or serums, feel free to send them back and try another until you find the perfect skin care for you.
Vita is warranted to be free from defects in material and workmanship for one year under normal use after its original purchase date. If your Vita device becomes defective during the warranty period, contact us for a repair or replacement.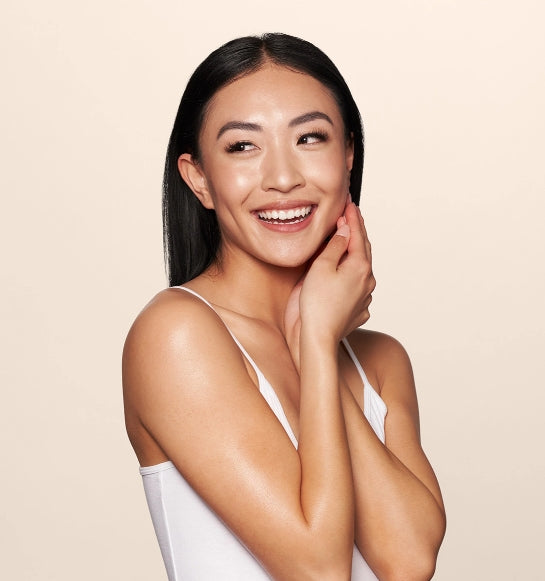 What are your shipping options?
We ship all our products through UPS Ground, which often completes delivery through USPS.
How long does it take for my product to ship?
Your order will take one to two business days to ship out from Auria Beauty, and arrives at your home within five business days after that.
My Vita's suction is no longer working. What should I do?
Check these three things, then get in touch! We're always available to help you out.
1. Are both clear rubber O-rings on the shaft of the filter?
2. Is the machine turning on, but the suction is weak when you turn up the power?
3. Are there any cracks in the white portion of the diamond tip? (Even a hairline crack can result in loss of suction.)